Follow my blog with Bloglovin'!
In my family, April is the start of birthday season. We celebrate over twelve birthdays between April and September, so I'm already starting to think about the gifts for my loved ones (not to mention my friends who are graduating and celebrating other life milestones). Since I spend an embarrassingly high amount of time looking at amazing gifts on Pinterest, I thought I'd share five of my favorite gifts for book lovers.
---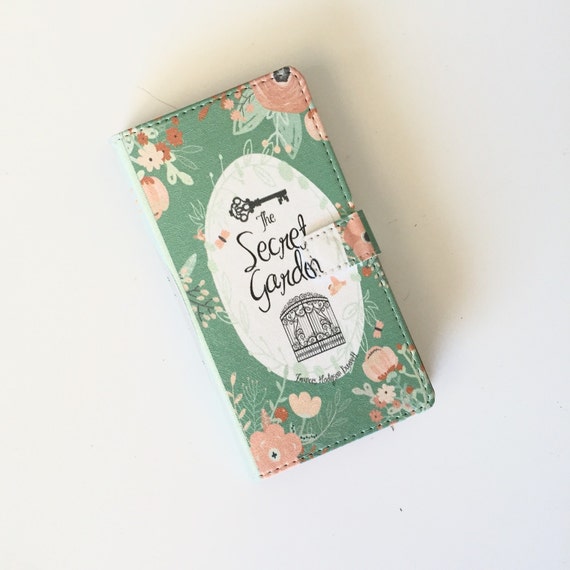 Phone Case
from Chick Lit Designs
It is seriously taking every single ounce of willpower I have not to spend money from this month's budget on this Secret Garden phone case from Chick Lit Designs. With a card holder and pocket inside the case, this gift is adorable and practical. Not to mention it has the name of the book on the spine, and a quote from it on the back. (The quote from The Secret Garden is one of my favorites: "She made herself stronger by fighting with the wind.") The Secret Garden is super meaningful to me because my aunt played Martha in the original Broadway cast of the stage version, and I met my boyfriend when we both performed in the play at my high school.  Chick Lit Designs also has cases for Mary Poppins, Cinderella, Gone with the Wind, Pride and Prejudice and more… Beyond adorable!
Oh my gosh, as a frequent lender of books (and also as a teacher) I am in love with this book embosser from Horchow. This helps you keep track of your books, and it somehow seems really classy in comparison to sticker bookplates (although I love those, too)! This would be perfect for a teacher or that friend who lends books to your whole social network. This could also be a great gift for newlyweds as they combine their lives and their libraries.
For Christmas this past year, my grandmother gave my aunt this gorgeous Nancy Drew tote from Out of Print. I'm not sure that I hid my jealousy well. (Side note: if you love books, go follow Out of Print on Instagram as soon as you can.) These totes are the perfect gift for book lovers who are on the go!
Book Coasters
from Out of Print
I can think of so many friends who would love these book cover coasters from Out of Print. They are perfect for book clubs. They also come in three other sets: one with a sci-fi theme, another with punk rock authors, and as an adorable library card set.
Litographs is a super cool company. At first glance, the image above just looks like a cool print on a t-shirt. But if you look closer, you'll notice that the grey color is made up of 40,000 words from A Little Princess. Now you can wear your favorite books as clothes. (Also, the shirts are hand-pressed in Cambridge, MA, so if you're a Bostonian like me, you're supporting a local business!)
Need more suggestions?
My amazing friend Madeleine over at Top Shelf Text made a list of great books as graduation gifts, and also shared these adorable book totes from Barnes & Noble.
---
Any other book products you love? Comment below – I'd love to check them out!