Follow my blog with Bloglovin!
Everything, Everything
by Nicola Yoon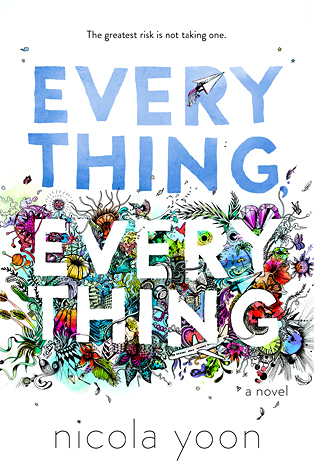 My Rating:
★★★★★

Note: Everything, Everything will be released on Tuesday, September 1st by Random House Children's. A link to preorder is included at the bottom of this review.
I loved this book in so many ways, it might be hard to explain them all. Trust me when I say this book is absolutely, positively worth your time. It makes you think, reflect, laugh, and cry all at once, and you'll learn so much through the story.
Madeline F. Whittier is an 18-year-old girl who lives her life trapped in a bubble. As a baby, a chain of illnesses led to a diagnosis of SCID – a disease that basically means Madeline is allergic to the outside world. She has never left her house, where air filters and windows that don't open keep her safe. Her only connections with society come in the form of her mom, her nurse Carla, and her Tumblr friends.
That's until Olly arrives. When a family moves in next door, Madeline (or Maddy, as Olly calls her) quickly unlocks the world around her in more ways than one. A life path that was once predictable and safe becomes "unknown and unknowable." Madeline finds out the truth about the world around her, and learns the difference between being alive and truly living.
A summary doesn't do this book justice, because there is so much more than the cliche romance some might expect from a book about a sick girl and a boy who "saves her." In fact, as Madeline says, "I'm not a princess. And I don't need rescuing." Olly and Madeline have their own problems and their own solutions for them. Their relationship doesn't fix everything, and it's not perfect (nor should it be). Their relationship is largely about respect, which sets a fantastic example for YA readers. Maddy and Olly's is a romance in which Olly thinks Maddy is "funny and smart and beautiful in that order, and the order matters." Their relationship is admirable, sweet, relatable and beautiful all at once, and that's one of the highlights of Everything, Everything.
The creative way the story is told will captivate readers, especially young adults. Beautiful prose from Madeline's perspective is mixed with IM transcripts, childhood diary entries, school notes, and other creative "artifacts" from Madeline's life. Breakout writer Nicole Yoon's unique style makes this book a page turner, and the pacing is absolutely perfect. Passages that are meant to be funny are absolutely hilarious, and parts of the story that are meant to be inspirational are relatable and honest instead of preachy.
As the tagline of the book says, "the greatest risk is not taking one." This is a book that takes risks, and asks the reader to come along for the ride. Addressing issues such as growing up, mental illness, race, and more, this book is one that will speak to a young adult generation that is socially conscious and wants to learn more about the issues that affect others. While Yoon takes risks in her subject matter and the way in which she tells the story, it's the risks that Maddy and Olly take that will captivate readers and make this a favorite of many for 2015.
This is the type of book I can't wait to talk to people about, because it's filled with so much wisdom and inspiration mixed with youthful optimism, and I can't wait to hear how it speaks to readers differently. Reserve it at your local library, pre-order it on Amazon, or find some other way to get this book in your hands this September. This book truly has everything, everything.
Book Information
Title: Everything, Everything
Author: Nicola Yoon
Illustrator: David Yoon
Publisher: Penguin Random House
Release Date: September 1st, 2015
Price: US $21.99
Source: NetGalley – Advanced Review Copy
Find this book on:
Goodreads
Penguin Random House
Disclaimer: I received an Advanced Review Copy of this text from Random House Children's. All opinions in this review are my own!