Follow my blog with Bloglovin'!
I'm a firm believer that every child needs a role model. Sometimes, the best ones are found between the pages of books. I've found that the girls in my classroom are always looking for spunky, smart, quirky, and brave heroines to identify with in their free reading. They also look for women and girls who have depth to their characters. Today, I'm spotlighting 5 of my favorite books that feature strong women and girls. Some of them were my favorites as a child, others are more recent releases. Please feel free to comment below with some of your favorite books with strong heroines – I'm always looking for suggestions!
---
The Madeline Series
by Ludwig Bemelmans
"In an old house in Paris
That was covered in vines
Lived twelve little girls in two straight lines."
When I was a kid, I used to have a Madeline doll that I carried around with me. I absolutely loved reading about Madeline and her adventures with her classmates. In the first book, Madeline shows true bravery when she gets her appendix out. Madeline is a leader, and the other students want to follow in her footsteps. More recently, I've loved reading about Madeline's adventures in Madeline at the White House – a story of Madeline in one of my favorite cities!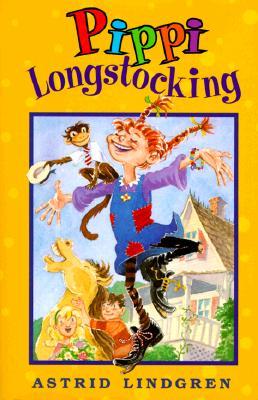 Pippi Longstocking
by Astrid Lindgren
When I studied abroad in Copenhagen, Denmark, I took a class entitled "The Rebel Child in Scandinavian Children's Literature." Created by the brilliant Swedish author Astrid Lindgren, Pippi Longstocking is a perfect example of the rebel child. She represents a child who doesn't always follow the rules or stick to traditional ways of doing things, but this rebellious nature allows her to learn from her mistakes and realize what truly matters. Pippi is very loyal to her friends Annika and Tommy. Pippi is a very memorable character due to her unconventional manners, her superhuman strength, and (who could forget?) her awesome red pigtails!
Rosie Revere, Engineer
by Andrea Beaty
I recently reviewed this book on the blog, giving it a 5 star rating for its fantastic message, beautiful poetry, and amazing illustrations. What really sticks out in this book, though, are the incredible characters. Young Rosie has dreams of becoming a great engineer, but in a world that keeps telling her "no" in one way or another, she files away that dream and chooses to give up. One day, however, her great aunt Rose (based on Rosie the Riveter) shows her that she really can do anything if she takes it one step at a time and never gives up. Both Rose and Rosie are strong female characters, which makes this a great read for any young lady in your life.
Chrysanthemum
by Kevin Henkes
When I was a little girl, I used to be self-conscious about how my name didn't sound quite like anyone else's. When I picked up Chrysanthemum, that completely changed. Chrysanthemum is constantly teased by her classmates because she has a name that "scarcely fits on her nametag." Over time, Chrysanthemum gets very down in the dumps about who she is, but encouragement and support from her parents helps her get back on her feet. Eventually, everyone's favorite music teacher reveals that her name is Mrs. Delphinium Twinkle, and she is going to name her baby girl Chrysanthemum. Chrysanthemum's classmates realize that a long name is nothing to be ashamed of. I really love this book because it's primarily about coming to terms with who you are. (Plus Delphinium Twinkle might be the coolest name for a character in a book, ever.)
Matilda
by Roald Dahl
Saving my absolutely favorite for last, Matilda is such a fantastic book for finding strong women. Growing up as a 90s kid, I loved the live action movie, and I recently saw the amazing West End musical adaptation in London. Matilda is a memorable story that will, without a doubt, be passed down for generations. The character of Matilda has unexplained magic powers, but what most people remember about her is that she is incredibly bright. She spends her free time in a library and knows how to do tricky math problems in her head. She absolutely thrives in the classroom, even though she has a very difficult home life. Luckily, she finds a wonderful role model in the form of Miss Honey – a teacher who believes in her and guides her on her journey. A book that features a brilliant little girl and a kind, witty and helpful woman is a great fit for anyone looking for strong female characters!
---
Who are your favorite heroines in children's literature? Feel free to share in the comments below!